When it comes to landscape lighting for your residence, the opportunities for design are as unique as the style of your home itself. Whether you're looking to improve the resale value of your home or simply welcome guests with a warm glow upon arrival, having strategically placed outdoor lighting can significantly enhance your property's existing assets.
Apart from added value and ambience, landscape lighting also provides the everyday benefits of safety and security. By illuminating your outdoor walkways, patio area or pool, you can help reduce accidents and avoid safety hazards.
When installed properly, landscape lighting can even help deter criminal activity in or around your home, especially when paired with security cameras that are easily seen from outside. According to a study by the University of Chicago, residential landscape lighting can help reduce crime at night by around 39%.
The perfect outdoor lighting design considers beauty, security and safety. In this article, we'll cover essential spots to place lighting fixtures that welcome loved ones in, help prevent them from experiencing unnecessary injuries and keep intruders out.
Pathway Lighting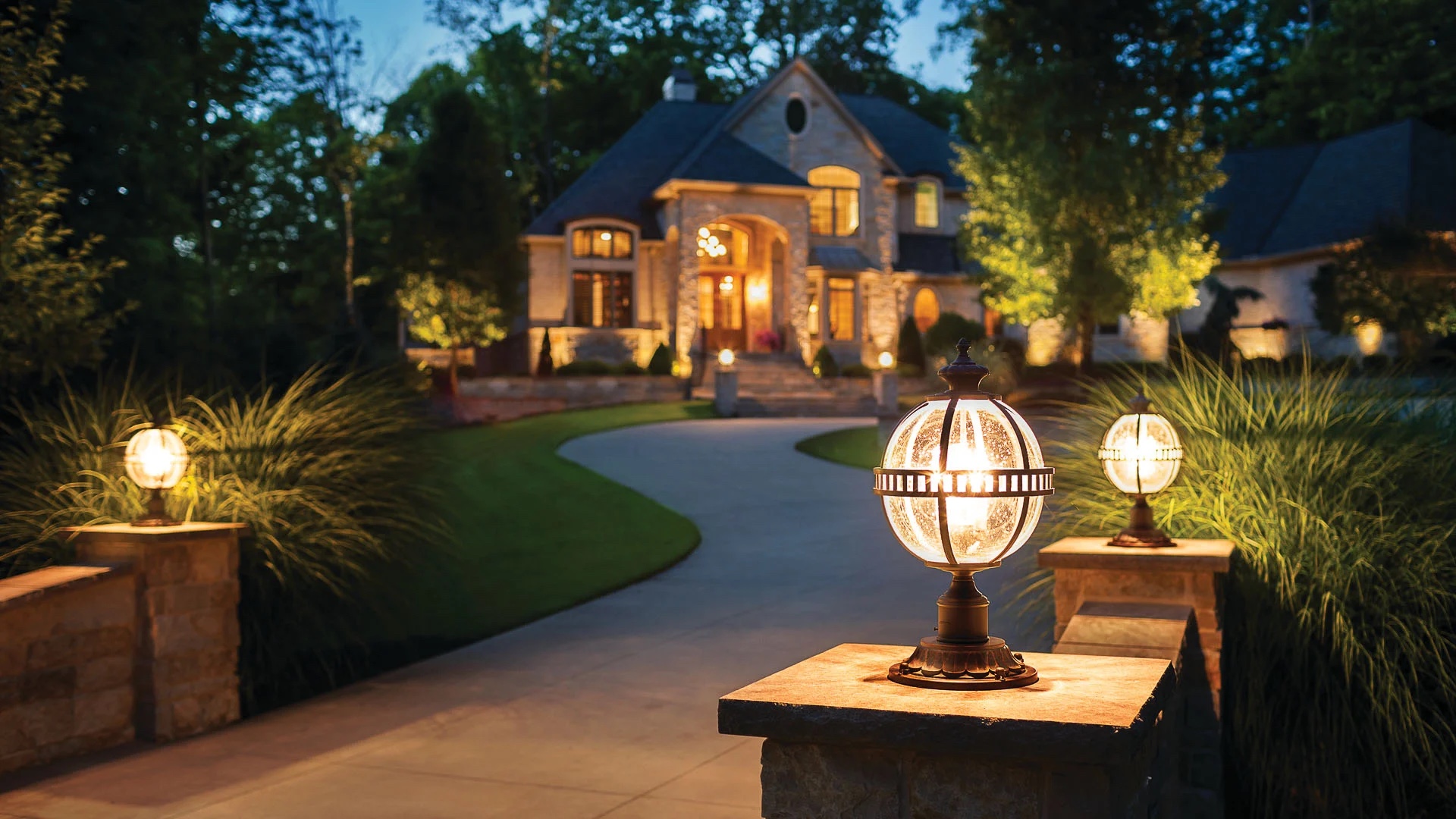 Pathway lighting can be a huge safety benefit to your family and guests when arriving during dark or dusk hours, allowing homeowners the chance to take full advantage of their outdoor spaces well past sundown. This investment can benefit homeowners for years to come, especially when professional LED lighting is installed.
Here are some tips to consider when deciding where to set up pathway lights:
Place lighting along the borders of your pathway. 
This creates a nice highlight that defines the shape of your path. If there are any elevated areas (stairs or raised parts of the ground, for example), be sure your pathway lighting reaches this area to avoid any potential missteps. For further safety, it's recommended to place lights about one foot away from the edge of the walking area.
Position your lights at the proper height. 
To cultivate a soft glow while keeping the area well-lit, it's suggested to position your lights around 14 inches above the ground. Again, if there are any significant changes in elevation along your pathway, consider adding a few more lights to avoid any unnecessary accidents.
It's important to choose pathway lights that are durable and long-lasting since there will be people walking around them. Because they use less power and burn cool, LED lights are a good option to ensure your pathways stay illuminated for a long time with little maintenance required.
Door and Entryway Lighting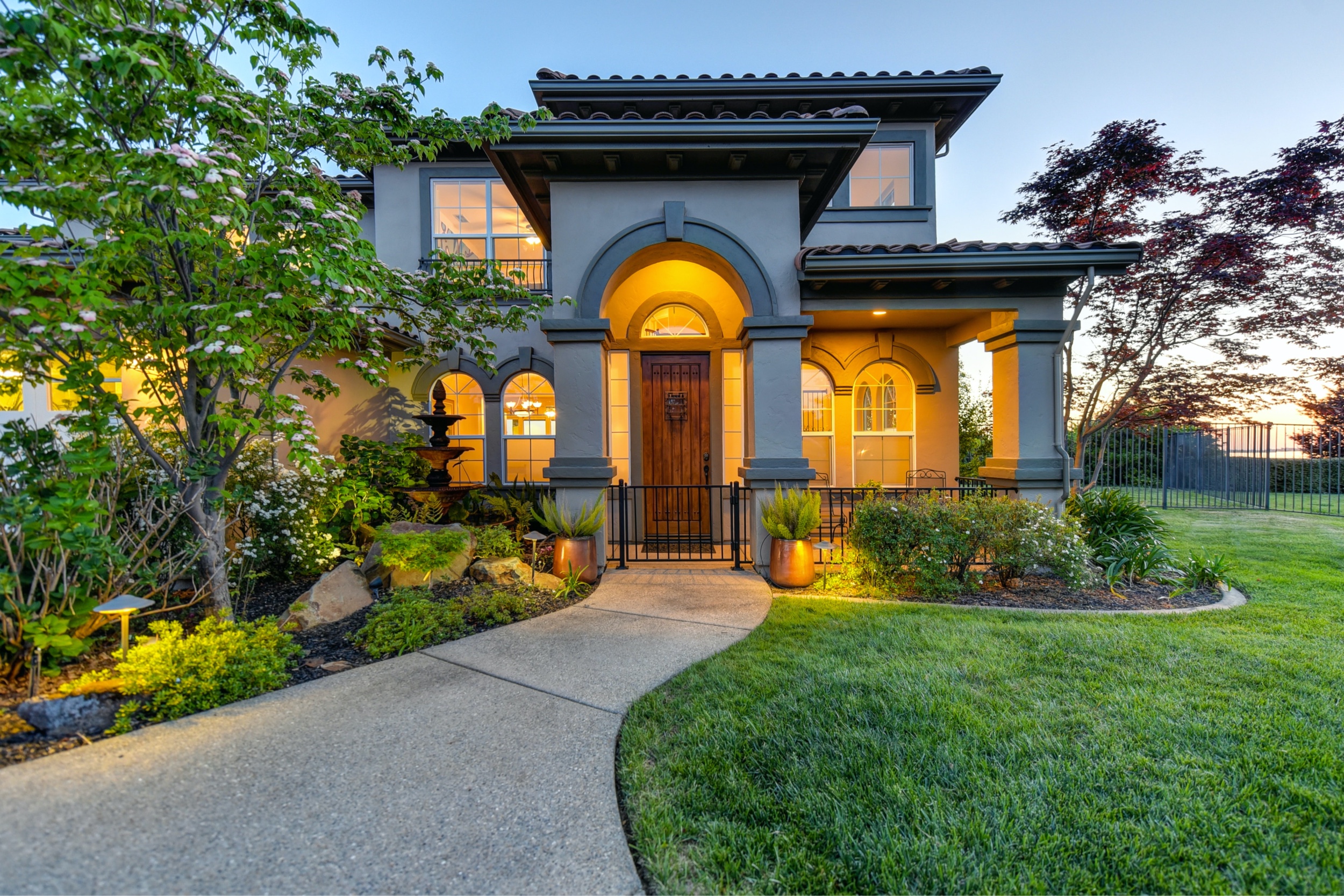 Every homeowner knows the importance of security, not just for their home and possessions but for their two- and four-legged family members as well. Illuminating the areas around your doors and entryways is key to helping deter criminal activity from occurring. There are multiple ways to place lighting around doorways that can expose intruders while also helping lead the way for guests.
Here are some popular areas to position your lights for optimal visibility and safety:
Front Porch Lights and Wall Sconces 
If you're looking to secure a light on only one side of your front entrance, it is recommended to place a wall sconce one third of the way to the top of your door, on the side with the handle. This ensures that your light is placed to optimize safety from intruders while helping residents find their way home. 
If you want to place lights on either side of your front door, install wall sconces at one fourth of your door's height. Regardless of placement, wall sconces should be raised to about 66 inches above the ground to best illuminate the front door's lock and handle.
Over Front Door Wall Lights 
If more brightness is desired, placing an overhead light above your front door is a good option. The fixture should be around one fourth the width of your doorway. 
For any additional lighting along the sides of your doorway, be sure the bottom of these wall fixtures are positioned at least seven inches above the ground.
Uplighting Trees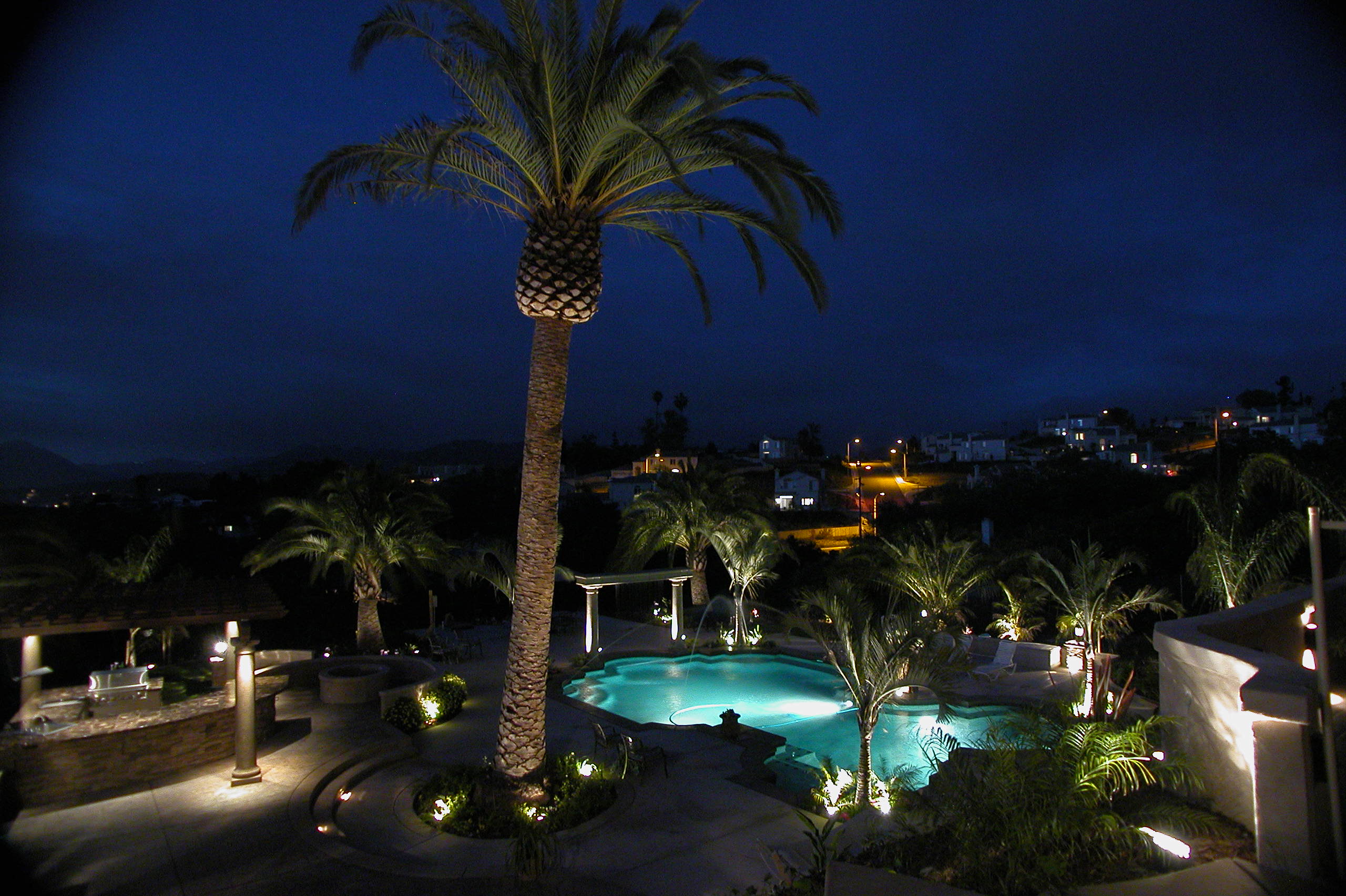 Uplighting a majestic oak or exotic palm can transform your home into a midnight oasis. Strategically placing lights at the trunks of tall trees will cast a soft glow over your lawn, highlighting the best assets your landscape has to offer. In addition to beauty, this helps illuminate large areas of your outdoor spaces for the ultimate nighttime visibility.
When figuring out where to place your uplights, remember to:
Place the fixture toward the base of your tree and point it upward.

The purpose of uplighting a tree is to highlight the branches, leaves or flowers at the top while softly illuminating the surrounding area.
Try to camouflage the fixture so that it blends in with your lawn.

You don't want the light fixture at the base of your tree to stand out, so a good option is to hide it among stones or shrubbery. The fixture should function as an accent, not the center of attention.
Place downlights in your tree's branches.

This technique of placing soft lights at the top of tall structures is known as moonlighting, because it mimics the moon's natural glow. The right placement of one or two bright LED uplights makes it appear as though the moon's light is beaming through the tree's branches, dimly illuminating your lawn. This technique requires less clutter than using multiple pathway lights but is difficult to install without the help of a

professional

landscape lighting designer

.
Pool, Pond and Water Lighting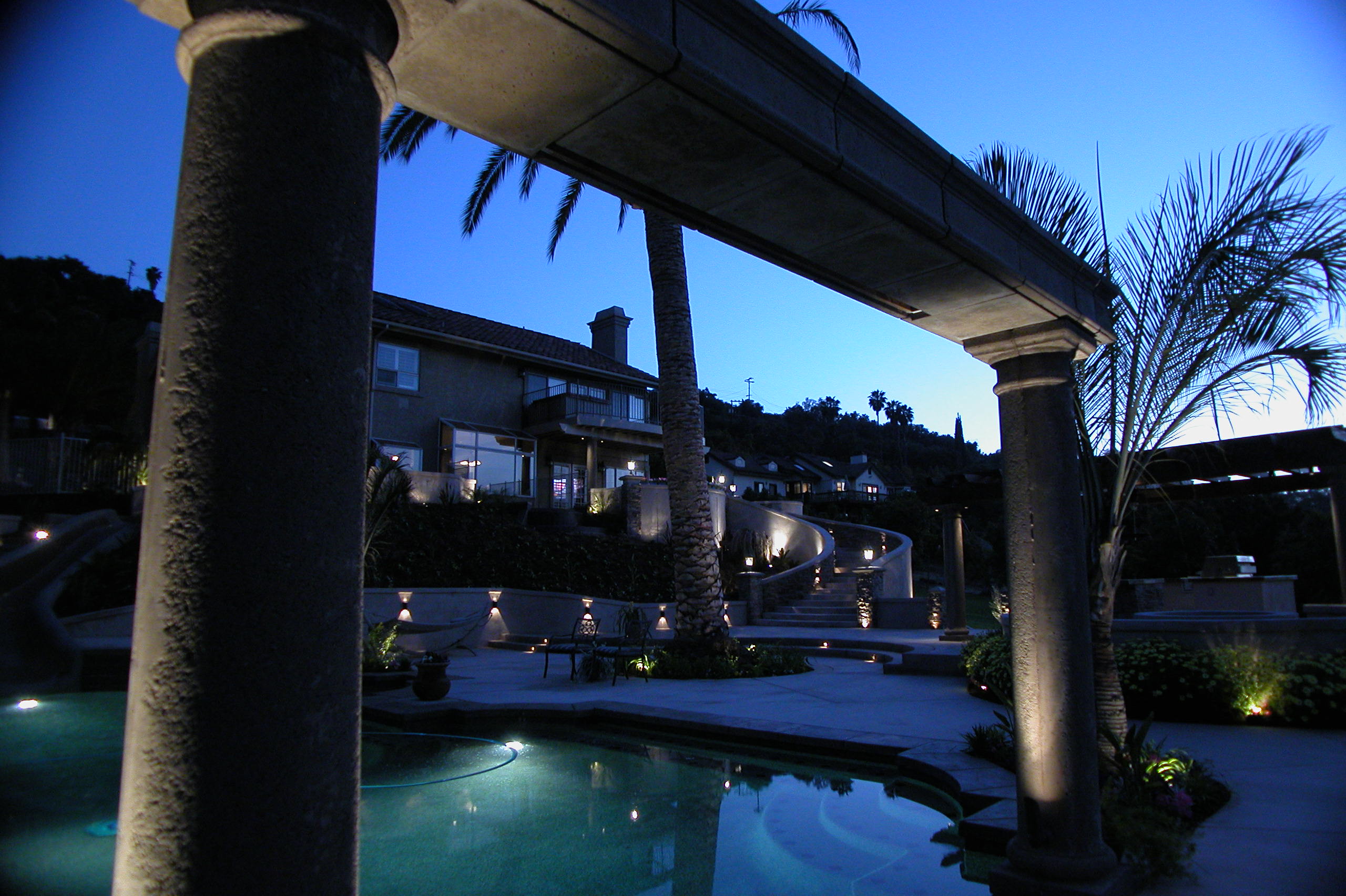 Many homeowners with outdoor water features can agree: there's something so beautiful in seeing light dance off the surface of a shimmering body of water — whether that's a pool, garden pond, fountain or waterfall. But they also know that having water on-property can also pose added dangers for children, elderly, impaired persons, and pets.
Because water can be easily disguised in the darkness of night, adding lights along the border of your water feature alerts guests to where they are, safely guiding them around the area. Placing lights around your patio or outdoor living area also increases accessibility and safety when swimming or walking near these water features in your backyard.
There are a few options for positioning fixtures that highlight your water feature:
Underwater Lighting
Underwater lighting can be difficult to install and maintain, so professional assistance is recommended. For swimming pools, it's best to install lights along the sides of its interior walls. 
External Water Lighting
Position downlights on the top of surrounding trees, fences or plants surrounding your water feature. Fixtures placed at ground level around the edges of your water feature — along half walls, accents or decks — also work effectively to illuminate water from above.
A combination of both underwater and external lighting is used most often and makes for a safer, more visible nighttime water environment.
Let Lighting Pros Make Your Dream Landscape Lighting Design Come to Life
Outdoor lighting creates an inviting atmosphere while also helping to keep your family safe from break-ins and accidents. Our team of experts at Lighting Pros are ready to work with you to map out a unique outdoor lighting design for your space and quickly take care of the installation process so you can start taking advantage of your outdoor spaces any time of day (or night!). 
Check out our residential LED lighting solutions to explore different outdoor lighting opportunities or get in touch with us today to start developing a design that works for you.