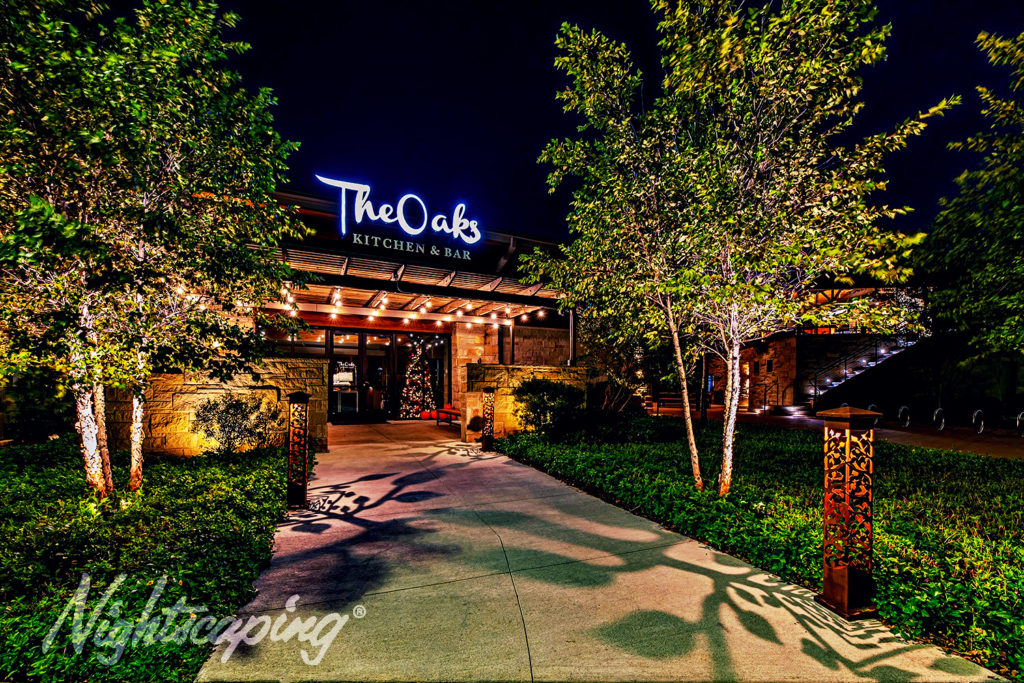 Curb appeal is possibly more important to your business than it is to your home.  Just like the appearance of a well-kept lawn and home exterior give a first impression to guests to your home, your customer also evaluates your business often by what he sees as he approaches it.  Face it, you are more likely to enter a business that is clean, professional-looking, and well-lit than a business that is not.
What Type of Lighting You Need
The most popular lighting for businesses today is consistently LED lighting.  LED (light emitting diode) lights have steadily improved in form and function over the years and have become popular for both residential and commercial applications.  And with good reason. Beyond being beautiful, LED lighting has several other advantages.
Energy Efficient. 


According to

Energy.gov

, LED bulbs typically use 25-80% less energy than traditional incandescents.  LED lights simply do not have a filament like your traditional bulb.  They generate light through photon producing electrons.  They don't put out any heat like your incandescent bulb, either and take far less energy to produce the same amount of light as the traditional bulb.  And since LEDs emit their light in one direction instead of around the entire bulb, they don't waste light on areas where they aren't needed.

 Less Expensive


Less energy use equates to more savings because of the efficiency of LEDs.  Though the initial cost may be a little more up front, that price is coming down.  Besides, when you are cutting your energy bill, you will see a return on investment almost immediately.

Last Longer


 Because LEDs are so effective, they have a longer lifespan.  This is because they have no working parts that will burn out or break over time.  Some LEDs are touted to last as long as 50,000 hours compared to an average 50 watt bulb's lifespan of 1-2000 hours.  
Bright and Colorful


You can get a high level of brightness with LED bulbs.  If you are used to the wattage declarations on traditional bulbs, you should pay attention to the lumen output when changing to LEDs.  You can also get a wide range of colors with the LED bulb that you may have not been able to acquire with your traditional incandescent.  
Other types of lighting is also available and may be right for you.  Check with your lighting designer for what fits best in your design.  We work with clients to address any specialty lighting needs and answer any of your questions. 
Where You Need Lighting
It doesn't really matter what kind of business you have, where you are located, or how late you are open.  Your business needs to be clearly lit, with welcoming curb appeal, and a safe atmosphere.  You want your clients to feel safe and comfortable, and new customers to feel welcome.  Your exterior should let a customer know at first glance that your business is professional and cares about its guests and employees.  You also want to highlight certain architectural or activity areas so that your customers can be impressed with the lighting design and feel welcomed by you.
Streets and Parking Areas


Streets and parking lots or garages require bright lighting for the safety and security of your customers.  Floodlights and security lights brighten up large spaces and give your guests and employees the feeling of safety and security.  Even though these are hard surfaces, post lighting can soften the edges, while creating a safe place to park, walk, and drive.  Incorporate lights at different heights add interest and variation and look more purposeful.  

Outdoor Dining/Patio


If your business has an area for dining outdoors, light it up!  You can entice new business by brightly lighting an area where they can be social and engaging.  If there is a bar or pool area, lighting lets your customer know where the fun is taking place.  Mix up overhead lighting with strands of lights, or landscape lighting.   Lights pointing in different directions add texture and variety to your patio or outdoor space.  Reflect lighting on water features for a shimmery effect.

Landscaping


You spend a lot on maintaining a beautiful landscape, so why not let it shine after dark as well?  Lights shining above and below trees, shrubs or even blooming flowers add beauty and ambiance to your landscape.  Plus, it also welcomes your customers safely to your front door.  Stagger lighting heights, place lights on walls or fences, or use colored lighting to highlight plants or water features.  

Holiday Lighting


Don't forget to add or change your

lighting for the holidays

.  Is this your busy season?  If so, make sure that you make the effort to impress your customers with your holiday spirit.  Don't forget to light trees, roof lines, and doorways.   Keep with one color or mix it up.  If you have a signature color, use it for your holiday decor.  
Lighting Pros
Not only can commercial outdoor lighting be beautiful and cost-effective, it may also increase business by providing new customers a reason to check out your business.  Add in the fact that outdoor lighting can reduce accidents and thwart criminal activity, and you can definitely chalk it up as a win-win.  
Lighting Pros are professionals in outdoor lighting design.  We have more than twenty years of combined experience, making us Central Florida's premier outdoor lighting experts.  We have a team of designers that will work with you, helping you to identify your needs for your commercial property.  It is our goal to design a commercial lighting plan that will make your property beautiful, inviting and safe.  We make the commitment to work with you to give you the best value, service, and product that Central Florida has to offer.  Check out our gallery or contact us today to talk with one of our designers or request a quote.