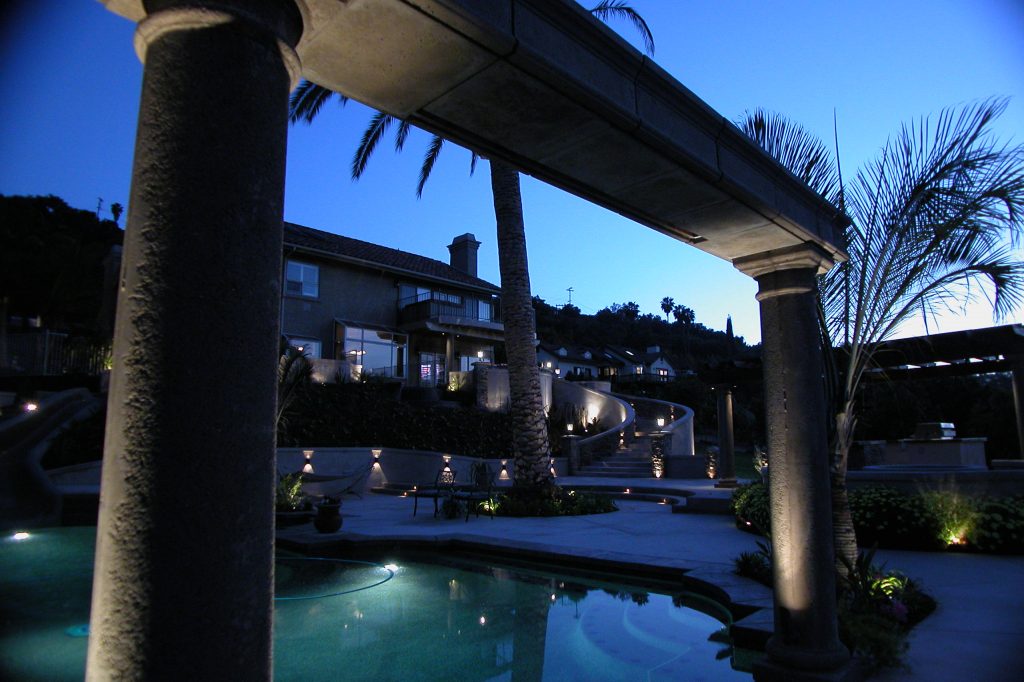 For many people, the vision of a welcoming home includes inviting lighting designs — displayed from the inside out. From great castles to mountain cabins and glowing windows, warm landscape lighting helps make a residence feel more like home. Subtle use of architectural lighting can make a place look majestic, emphasizing its contours and size even in darkness.
Of course, residential outdoor lighting is more than just aesthetically pleasing, it's also functional. When placed strategically, landscape lighting can be a huge factor in improved safety and security for your home. From night walks to raccoon raids to catching a thief, the right outdoor lighting for your home could serve aesthetics, home security, nighttime safety, and enjoyment of your property all at once.
Safety
Evening Walks on Safely Lit Pathways
One of the joys of homeownership is the ability to make your landscaping your own. Whether you enjoy hosting social gatherings or prefer enjoying your outdoor space more privately, custom landscape lighting can help set the scene for a relaxing, inviting atmosphere. From your front sidewalk to your backyard stepping stones, pathway lighting is a safe and beautiful way to send yourself or guests along an ethereal path, significantly reducing the risk of injury during the evenings.
Each single or pair of path lights illuminates the pavement, spotlighting stairs and slopes, cracks, and obstacles for the safety of everyone walking along the path. Many pathway lights are solar-powered, soaking up sunshine during the day and lighting up at night (and under heavy clouds) when the sunlight fades.
Runway Lights Along the Driveway
Parking at night is not always easy. Many people struggle with the need to back in or avoid pavement-side obstacles in the dark. A garage light can help and so can a flood, but for the driver, the most useful markers are runway lights. Consider the last time you were backing into a parking space in the dark. What you and your mirrors can really use is a few softly glowing points along the pavement to mark the parking space and path.
Runway lights on the drive serve as path lights for pedestrians and key reference points for your drivers. From new drivers to tricky driveways, runway lights along the driveway can prevent scrapes, protect tires, and even improve driving skills by practicing with clear markers.
Security
Lights, Camera, Home Security
Home security is achieved with layers of precautions. You lock your doors and windows and don't leave valuables outdoors. You mend the fence and lock the gate to discourage intrusions. You may have an alarm system installed. You also light up the outside of your home to discourage criminal skulking. Both animal and human nighttime intruders don't like bright lights. Criminals prefer not to be seen, whether they're stealing lawn furniture or jamming open a window. Raccoons and their kin are nocturnal and bright lights are uncomfortable to them.
However, for the bolder thieves of both types, outdoor lighting pairs ideally with cameras. Security cameras have a tough time without lighting at night, but your decorative lighting can double as security lighting to catch a thief. Nest a camera in the eves and decoratively illuminate your deck for social gatherings and nighttime strolls. Smart thieves will avoid the lit area, while foolish ones may not realize they are on camera without a floodlight flash.
Architectural Lights Make the Home More Visible
In unlit neighborhoods, you can lose sight of a house beyond the glow of the torchlight. Homes are not, by nature, visible in the dark. But yours can be. Architectural lighting are lights designed to point at the walls of the house itself, enhancing or contouring the architectural features of the home. Architectural lighting can be used to make your house look and feel majestic and huge or modest and cozy. You can use cool lights for an impressive visage or warm lights to inspire rustic comfort.
The one thing all architectural lighting designs do is illuminate the house. Usually, these lights are placed in the flowerbed along the home foundation, pointing up at the walls. Sometimes, lights down from the eves or even up from the gutters are used. From a distance, architectural lights make a home look impressive and alluring at night – sometimes even depicting shapes that don't exist in the day.
In terms of security, however, architectural lights ensure that no one can sneak in a window or door without being lit up by their own personal spotlight and dazzled, effectively blind in the process. Architectural lights aren't just beautiful, they're really inconvenient to home invaders and teens trying to sneak in or out.

Beauty
Illumination in the Trees and Eves
Overhead illumination is best for both pathway safety and home security because more of the space is lit. Fortunately, it's also beautiful. String lights can be woven through tree branches or over the top of a pergola path. Your deck and the eves of your home make excellent mounting points for diffused lighting from walls, posts, and railings. If you have canopies or overhead trellises, use them to provide a gentle glow of lighting above all your outdoor social or pathway spaces.
Combined with a few security cameras, well-positioned landscape lighting can help discourage or capture clear recordings of intruders in action. For all the non-intruded nights of the year, of course, these glowing overhead fixtures simply provide a welcoming and perhaps ethereal illumination to your outdoor social spaces.
Design Your Home's Outdoor Lighting with Lighting Pros
Is your home due for an update in outdoor lighting design? From pathway lights to architectural spotlights, your home can be more beautiful, welcoming, and safe with a few smart lighting decisions. Whether you're looking to create the perfect deck-and-garden social space or make your home stand out on the block, we can help you achieve both beauty and security with every outdoor lighting design.
Let the Lighting Pros team help you design the perfect outdoor lighting plan for your home's enjoyment, safety, and curb appeal. To learn more or start your planning phase, contact us today!