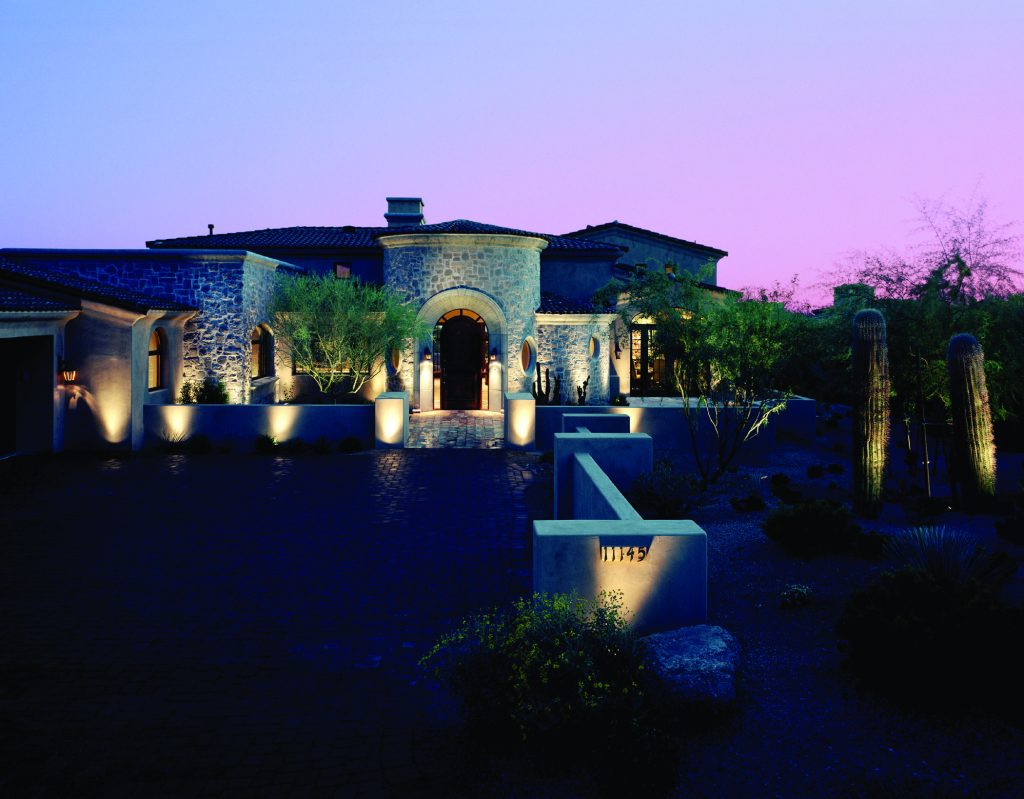 If you are planning to sell your home, and hope to land the best bargain, it's vital to take measures that increase its value. One way is to highlight your home's best features through low voltage outdoor lighting. The lighting serves to enhance your curb appeal and highlights the structural details of your home by wrapping them in a warm ambiance at night.
Outdoor or landscape lighting can improve the value of your home in various ways. According to many real estate dealers, and residents, one of the most desired aspects of a house to buy is exterior landscape lighting. In addition to enhancing the aesthetics of your home, outdoor lighting has the following benefits:
It improves safety in your home, especially at night

Exterior lighting enhances the security of your home

It creates spaces you would lose at night without lighting

It also creates a wonderful entrance experience for you, your visitors, and potential home buyers
How Outdoor Lighting Increases Your Home Value
Outdoor residential lighting does much more than just illuminating the exterior of your home. It creates a powerful effect on the appearance of your home, especially at night. Your visitors and homebuyers will likely be impressed by the lighting and may fall in love with it.
Here is how outdoor lighting increases the value of your home:
It highlights the exterior architecture of your home.
Draw the attention of your potential buyers to your beautifully detailed walkway through low voltage outdoor lighting. Cast warm light on plants, hedges, and the yard to create a beautiful landscape. People stopping by, or going in and out of your home will envision themselves having outdoor family gatherings or parties with their friends.
External lighting can also help you highlight the architectural details of your house. Use up-lighting to cast light up walls and pillars to accentuate them at night. You can also adjust the lighting such that it silhouettes some features such as the shrubbery and statues to create a mystic aura to your home. It is certain to enthrall potential buyers.
Exterior lighting upgrades the open house experience.
The open house concept set in the evening can be a great attraction for potential buyers to your home. And you don't have to wait until darkness sets in to showcase the beauty of your home's exterior. Prospective buyers who get to see the home as the sun goes down may experience a dramatic effect that may drive them to make compelling offers for the home.
Helps to create compelling property marketing photos.
Great photos have a lasting impression on the minds of potential home buyers. Even before they get to the scene, they like to flip through images of various homes before they can narrow down on one that suits their fancies.
When it comes to marketing photos, you need to make your home look its best. Photos taken at dusk with the warm lights encompassing your home for the night can be so amazing, and your prospective customers may sure fall in love with them. There is something romantic about lights that will compel your buyers to make better offers for the home.
It boosts security and safety.
Other than just enhancing the aesthetics of your home, exterior residential lighting boosts the security and safety of your home at night. Criminals stay away from homes with landscape lighting because it makes it difficult for them to sneak in without detection.
Criminals look for dark places, such as shrubbery, around your home for hiding as they plan a break-in. Exterior lighting eradicates such places by introducing light around your house and deterring burglars from attempting to raid it. You can complement lighting with motion detection cameras to complete your security setup. Buyers will be willing to pay more for your home if they have no doubts about its security.
It enhances aesthetic and curb appeal.
Proper outdoor lighting highlights the aesthetic appeal of your architectural features and helps visitors traverse your home safely. You know where the hazards in your property are, but your guests don't. They may stumble over the decking, potted plants, and other obstructions.
Your guests will also be able to see drop-off points, such as stairs, and the end of your decks, clearly if there's enough outdoor lighting. Your home buyers will have no excuse but to quote a better price for your home.
It's what homebuyers are looking for.
Homebuyers are looking for a beautiful home, so you have to offer them nothing short of a home full of splendor. And what better and easier way to beautify your home than add exterior residential lighting? The more attractive your home is, the more bargaining power you would have when negotiating its price with prospective buyers.
Also, many people buying homes want to have as little work to do as possible – most are looking for a ready-made home complete with exterior lighting so they don't have to spend more money. 

Why Choose Lighting Pros for Residential Lighting
With so many commercial and residential lighting service providers out there, it's important to invest in an experienced local provider you can trust to make your lighting design vision come to life. Here are the benefits of partnering with an Orlando landscape lighting company like Lighting Pros:
The latest technology: We use LED lighting solutions to illuminate your home brightly for longer periods, and cost-effectively. The LED lighting technology is more energy-efficient compared to fluorescent bulbs.

Versatile lighting solutions: We offer all types of lighting for your home, whether the garden, plants, walkway, or patio.

Positive reviews from reputable past clients: Our existing clients, which include injury attorneys, have positive reviews for our past projects.

Meets all your lighting needs: Whether you need permanent outdoor lighting, or temporary lighting, such as on Christmas trees, you will be at home with Lighting Pros.
The bottom line is that outdoor lighting increases your home value. You may need the services of Lighting Pros to light up your outdoor environment, improve the aesthetics and security of your home, and fetch a better value for your home from potential buyers. Learn more about our
innovative outdoor lighting solutions
by
contacting us
today.