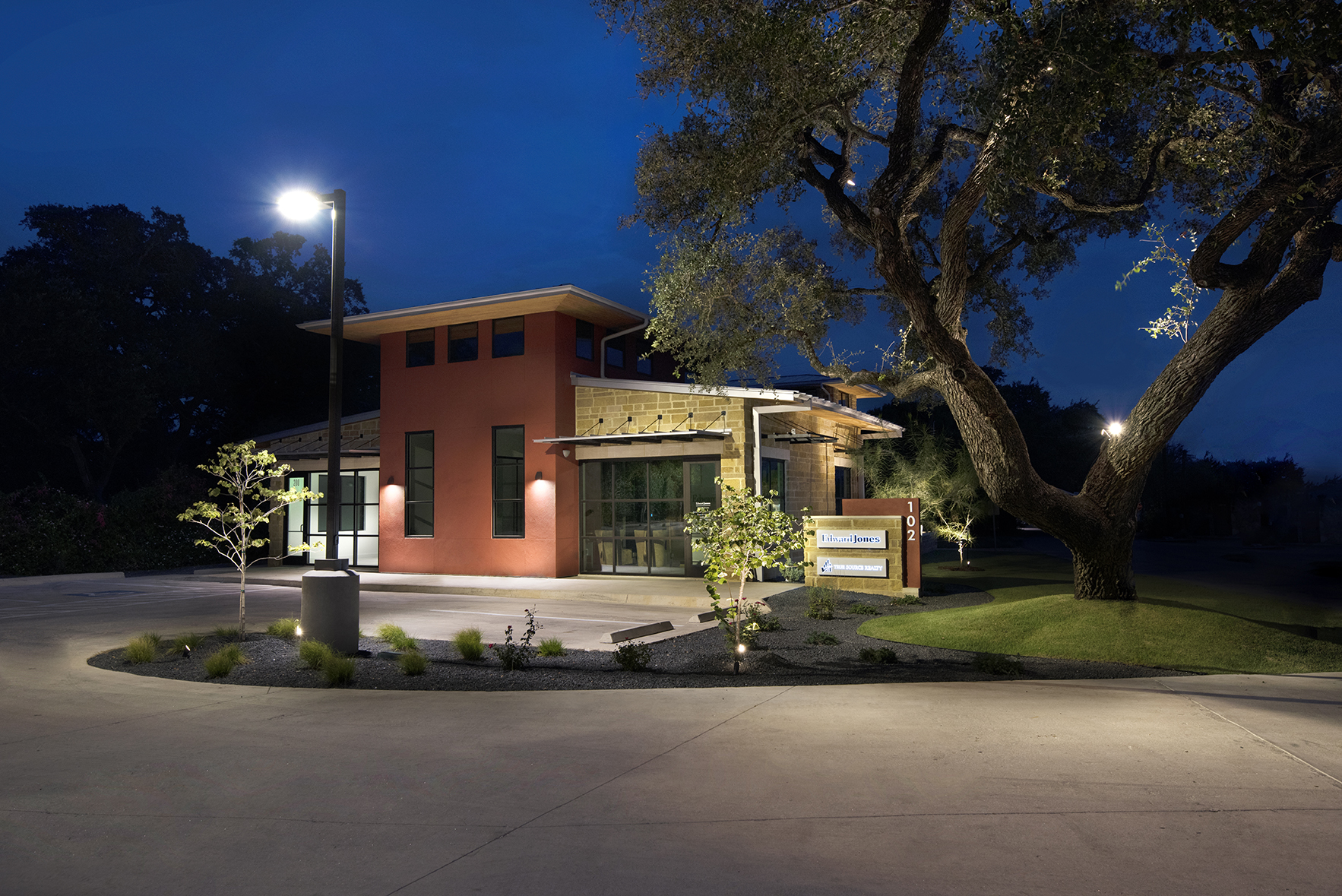 There is no better time than right now to add or revamp your business' outdoor lighting.  Outdoor lighting adds beauty, style, and safety to your business and lights the way for new customers to find you. Creating a safe environment in your business is essential to the successful performance and operation of employees and customers. Safety, above all else, is an important reason for installing outdoor commercial lighting.
Why Your Business Needs Outdoor Lighting
If you have a new business, or your current business has insufficient outdoor lighting, there are a number of reasons to revamp or add to your outdoor lighting. Of course, you want your business to stand out, look welcoming, and make your customers feel comfortable and safe.
In addition, installing outdoor lighting to your business has many benefits:
Commercial outdoor lighting offers great curb appeal.

It makes your customers feel welcome and safe.

It attracts new customers as well as prompts satisfaction for returning customers.

It looks inviting and professional.

Most importantly, it provides a safety measure for your clients as well as your employees and family.
Safety First
There are a number of reasons that safety is a concern for a business. You want to provide a safe place for you and your employees to work.  You want your customers to have a safe, well-lit walk into your front door. You want to deter criminal activity by avoiding darkened hiding places or areas of low visibility.  By paying attention to safety, you are letting customers and employees alike know that their safety and wellbeing are important to you.
There are several areas that you should look at when designing an exterior lighting plan. Consider all areas where there will be pedestrians and vehicle traffic. Look at each area on your property carefully and consider where lighting will help prevent accidents or deter criminal activity.
 Parking Lot or Garage

This is an important part of your business. Your customers park there. Your employees park there. You park there.  So it should be well lit, well-maintained, and free of debris and trip hazards. If your parking area is poorly lit, it gives your customers and employees a poor image and could even possibly drive away business.  Your employees will be going to and from their cars, so they want to feel safe and feel secure that their car will be safely parked there.  

If your parking area is poorly lit, there is more chance for an accidental fall. Without proper lighting, even a step up or down could be problematic. Pedestrian/vehicle accidents are less likely to happen in a well-lit area.

Poorly lit parking areas are prime areas for criminal activity. A brightly lit area discourages criminals and vandals and gives a sense of security to those who park there.

Walkways, Stairways, Paths

Your business may have beautiful landscaping, but if your patrons are afraid to walk around, you are missing a great opportunity. The walkways and stairways that are near, on, or around your business should be made safely accessible with proper lighting.  

By lighting up your walkways and paths, you are not only making it safe for those walking, you are also able to highlight foliage or a design feature along the way combining safety and beauty.  

Exterior Walls and Doors

Strategically placed exterior lighting along walls, over doors, and close to any area that leaves a dark blind spot, is an easy way to increase the safety of your business while making it look like you did it just because it is beautiful.

Criminals like to lurk around dark corners, behind dark shrubbery, or anywhere with compromised visibility. By placing lighting subtlety at these areas, you are keeping these villains at bay.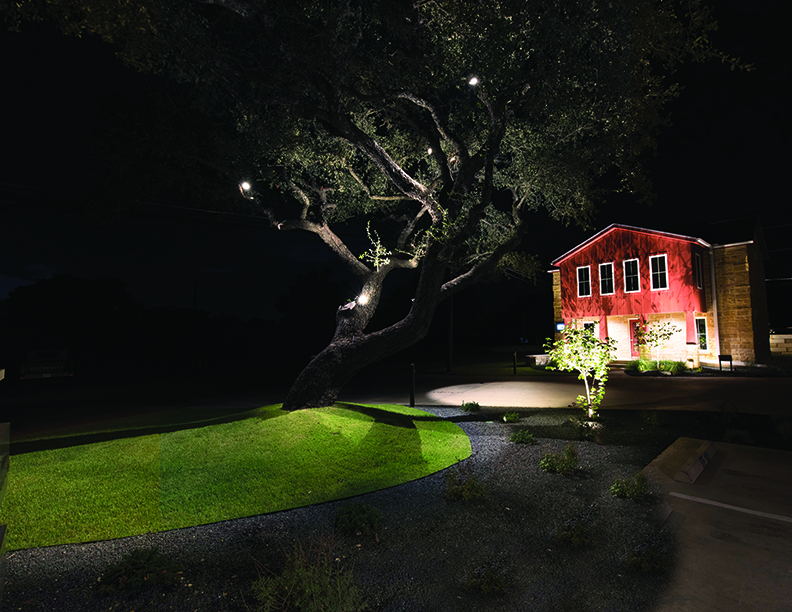 What Kind of Exterior Lighting Is Right for Your Business?
Consider, first of all, the hours that your business is open.  If you are in the hospitality business, maybe most of your business is done late in the day. But even if you are working a nine-to-five business, keep in mind that there are people possibly working after hours, such as cleaning crews that will still need a well-lit work environment. And criminals do not punch a time clock.  An empty business that is well lit, is less likely to be robbed or vandalized than a poorly lit one. 
LED Lighting provides an environmentally friendly solution when illuminating your business exterior. They provide an ambient glow to your outdoor areas, have a longer bulb life and are highly efficient. Some of these strips also have features that display multi-colors with sequential action that draws more attention to a walkway, while providing a soothing ambiance.  
Parking Garage and Canopy Lights can be tailored for your specific needs and location. Deterring criminal activity and providing a safe environment for your customers and employees can be accomplished with these lights.
Security and Floodlights are used for large areas that you want to have well lit. Some can be designed with motion sensors to detect any activity.
Wall Lights can enhance the look and safety of walkways, paths, and walls, while looking subtle and soft.
Post-Top Lights are attached to posts to give soft lighting along outdoor landscaping, giving light that is higher than the pathway lights.  
Lighting Pros
You wouldn't think of not insuring your business, right? Think of the right outdoor commercial lighting design as an insurance policy. It is the insurance that you need to keep your business, customers, and employees safe. But not all lighting is created equal. You need a professional who can help you with the design and lighting needs that best suit your business. 
It doesn't matter if you have a large commercial building, or a smaller, more intimate business, our Pros can help you decide what type of lighting best fits your needs. We can show you how to strategically place the lighting to optimize your outdoor area and create a safe, inviting exterior. Contact us today for a free quote!