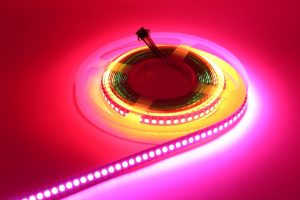 If you're looking to amplify your business's space, commercial lighting displays are one of the easiest ways to do it. LED lights have made it easier than ever to create captivating outdoor displays and enhance your indoor space. These energy-efficient lights can be used in strip lighting for both practical and aesthetic purposes. From industrial workbenches to upscale dining, commercial LED strip lighting can be what takes your business to the next level.
What Are LED Strip Lights?
Commercial LED strip lights and lighting systems are specially designed for larger spaces like retail shops, restaurants and even hotels or resorts. Commercial LED strip lights
consist of high quality LEDS attached to a spool of circuit board tape that can be applied and installed.
LED strip lighting may also be called "LED tape lights" or "LED ribbon lights." They can also come in different colors and have customization options like dimming and warmth. Like tape or ribbon, they can be cut to an appropriate length for the intended application.
LED strip lights can be used for a variety of different lighting projects, from lighting counter spaces to storefront window displays. Commercial strip lights can add a pop of color and elevate a space but are made to be more durable and come with the brightness and efficiency of LEDs.
Residential vs. Commercial LED Strip Lighting
Since LED strip lighting is so versatile, it can be used for both residential and commercial projects. LEDs can be easily installed in tray ceilings and underneath cabinets in a home or be the focal point of a room. However, there are some major differences between residential and commercial LED strip lighting systems.
Brightness
Commercial strip lights are made to last and be used every day. The LED lights themselves may be more luminous, given their use and intended purpose. For example, strip lighting used to illuminate a storefront window display will be more powerful and brighter by necessity than the lighting used to create ambiance in a living room or den. You'd want to draw people's attention to your storefront, and so a bright and clear lighting strip can be excellent for framing the display in your window.
Commercial LEDs can be more than just decorative. They can also be a practical addition to a commercial workspace. Commercial LED strip lighting can also be used for industrial workbenches, where a bright light is absolutely necessary. Working with small mechanical parts or delicate pieces of technical equipment can require clear lighting, and LEDs can provide just that for technicians when they need it.
Durability and Use
The actual tape for the commercial LED strip lighting may also be longer with larger circuit boards. You'll need less tape to cover your space if you use specialty commercial LED strip lighting tape. The tape can also bend around corners, so wall-to-wall lighting is easy to install.
Commercial LED light strips can also be water-resistant or waterproof, depending on whether they'll be used outdoors or not. Overall, commercial strip lighting systems offer brighter, clearer light than residential tape lights, with the LEDs housed on a durable strip that can be used in a variety of spaces.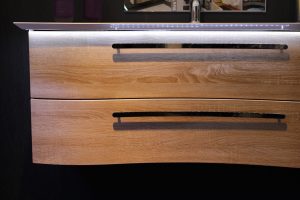 The Benefits of Using LED Strip Lights
LED strip lighting can be eye-catching additions to a business. They're versatile enough to frame a focal point of a room or provide ambiance for your commercial space. For example, a jewelry store can install LED strip lighting in their displays to really emphasize their offerings for customers. A restaurant could also install LEDs with warm lighting in their ceiling to evoke an intimate atmosphere.
Commercial LED strip lighting isn't just limited to be used inside. It can also be used outdoors as well as part of a lighting display. LED strip lights can come in different colors like red, green and blue, not just white. Here are just a few examples of how LED strip lighting can be used outdoors for different businesses:
Attract diners and foot traffic with RGB strip lighting around your restaurant's front doors
Bring a unique pop of color to your signage at your retail store
Light winding stairs and prevent accidents or mishaps at your outdoor venue
Add mood lighting to outdoor decks and patios
These are just a few examples of just how much LED strip light systems can add to your commercial space. Commercial LED strip lights are made to last and stand up to daily use. They're also a very energy-efficient lighting choice, so they're ideal for businesses looking to save on their energy bill. When it comes to LED strip lights, the choice is really yours for how you'd like to use your lighting display.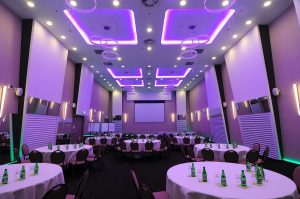 Installing LED Strip Lights
Installing LED strip lights can be challenging depending on what you intend to use them for. You'll want to use high-quality, bright strip lights that are made to last. If you want customization, you may also want to look into spools of strip lights capable of RGB colors and a remote control.
If you have a more extensive lighting display in mind, you'll probably want to enlist some help. Lighting professionals can assist you with both indoor and outdoor lighting displays, including LED strip lights. They can also advise you on the best kinds of strip lighting to use and help program any controls that might come with the lighting strip system.
At Lighting Pros, we can help with both commercial and residential lighting displays and determine the best design and lighting solutions for your needs. No matter the lighting design project, we can help you create a unique and eye-catching display for your business.
Light Up Your Business With Lighting Pros
Request a Quote